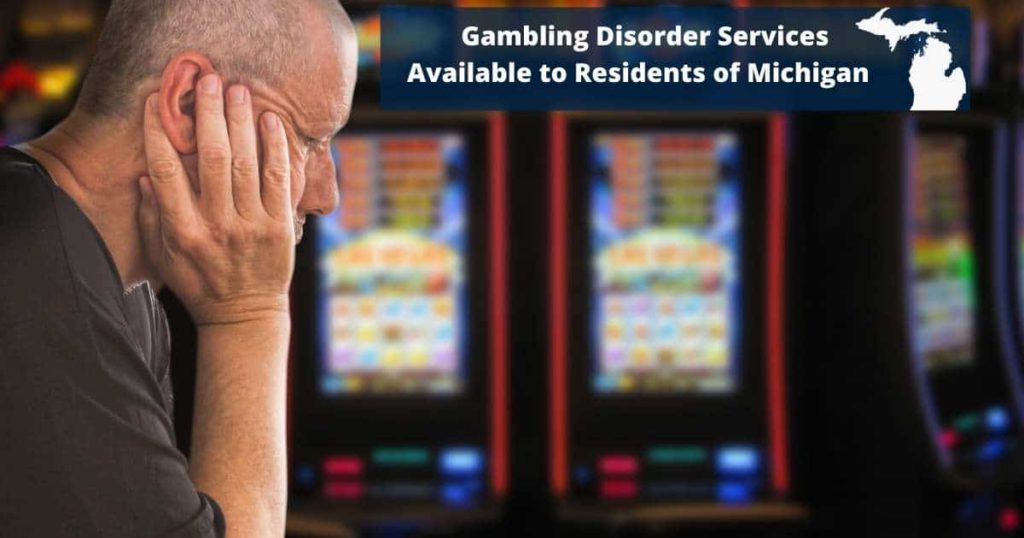 Are you addicted to gambling? If yes, Gambling Disorder Services are available to residents of Michigan. If you think you have an issue with gambling or sports betting then you most likely have a problem.
Do you feel out of control?
Are you gambling more money then you should?
Are you gambling more to try and recover or cut losses?
Do you lay in bed worrying about how much you lost?
Are you obsessed about placing bets?
How do you feel when you stop gambling? For instance, restless, irritable, anxious…
Have you started to lie to your family about your gambling?

Do these questions describe you? If yes, the following information should help you locate people that can help you.
Legalized Online Gambling Gives Rise to Addictive Gambling Disorders
Why is there a recent rise in gambling disorders? In this paragraph, I am going to discuss the rise in addiction. During January 2021 online gambling became legalized within the State of Michigan. Michigan is not a stranger to casino gambling. The State has over 2 dozen gambling options. The state is; however, new to the online gambling and sports betting scene. Because of this trend, gambling addictions appear to be on the rise. The pandemic has also likely contributed to the problem. During 2019, 2020 and part of 2021 many casinos have been closed or partially closed. Residents and visitors to Michigan may not have been able to frequent casinos during these closures. Due to the ongoing pandemic, online gambling has been appealing, but is is causing some people problems.
Visit our FAQ page for commonly asked questions about legalized casino gambling and sports betting in Michigan. Gambling can be fun if done in moderation. However, some people find themselves out of control.
Gambling Disorder Services are Funded by the State of Michigan
The Michigan Gambling Control Board and the Michigan Lottery provide funds for gambling disorder services. In addition, the Michigan Problem Gambling Helpline is also available and can be reached at 800-270-7117. The Michigan Department of Health and Human Services operates this 24 hour helpline. In addition, gamblers who want to stop, can be put on a non-gambling list. There are other options to such as: the National Council on Problem Gambling, Gamblers Anonymous and Gam-Anon.
Resources for Gambling Addiction in Michigan
According to the Michigan Gambling Disorder 2020 Annual Report ((Michigan Gambling Disorder 2020 Annual Report – this article was written based on this report.)), more local resources are available. The following list includes regional programs and contact numbers for Michigan residents.
Programs
# of People Served
Area of Service
Contact
Community Mental Health (CMH) Partnership
15
Southeast Michigan-Serves the counties of Lenawee, Washtenaw, Monroe and Livingston
734-344-6079
Detroit-Wayne Integrated Health Network (DWIHN)
92
Serves all of Wayne County
313-833-2500
Lakeshore Regional Entity
30
Serves the counties of Allegan, Kent, Lake, Mason, Muskegon, Oceana and Ottawa
231-769-2052
Mid-State Health Network
27
Serves a 21 county area in the lower Peninsula of Michigan
517-253-7525
North Care Network Contact
4
Serves all of the Upper Peninsula of Michigan
906-225-7254
Northern Michigan Regional Entity
10
Serves the Lower Peninsula of Michigan including 21 counties
231-487-9144
Southwest Michigan Behavioral Health
15
Services an 8 county area. The counties include: Barry, Berrien, Branch, Calhoun, Cass, Kalamazoo, St. Joseph and Van Buren
800-676-0423
Michigan Problem Gambling Helpline
Oakland 48
Macomb 48
Region Ten 11
Oakland (surrounding Detroit Area), Macomb (surrounding Detroit Area) and Region 10.
800-270-7117

Summary of Gambling Disorder Services Provided
These programs helped 312 Michigan residents during 2020. In addition, 538 citizens were offered other treatment programs, 205 were referred to the Disassociated Person's List and 226 people received crisis intervention for gambling addiction. Professionals have also been provided the needed education and training. During 2020, forty professionals received a lengthy 30 hour training on gambling disorders. As a result, this training has helped professionals reach out to those who have problems with gambling.
In conclusion, if you think you have a problem get help. The first step to recovery is admitting you might have a gambling problem.