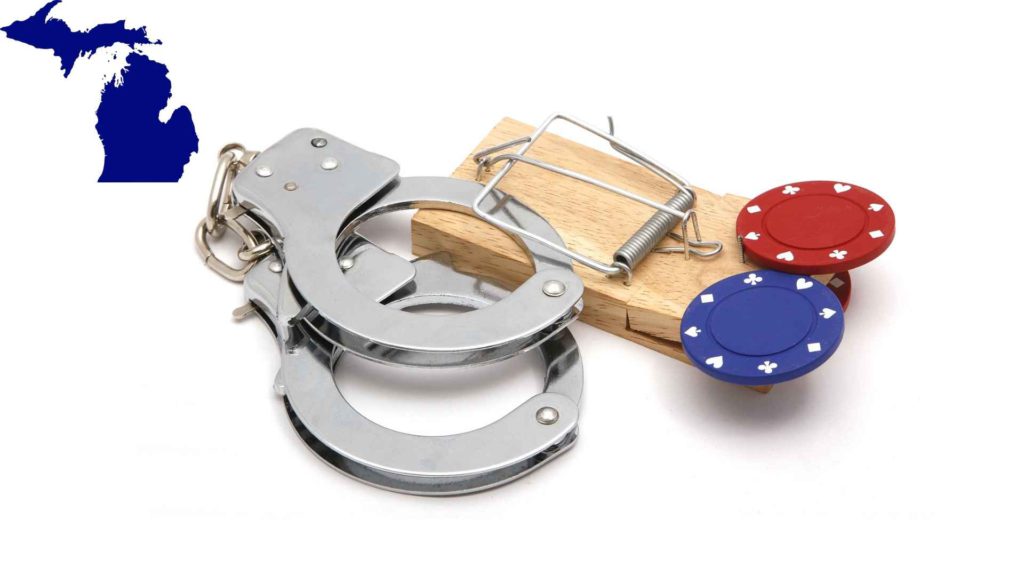 Illegal Gambling Education Effort
Illegal gambling operations will be targets by authorities in Michigan. The Michigan Gaming Control Board (MGCB) along with the Michigan Liquor Control Commission (MLCC) will be working on cracking down on illegal gaming in 2022. The two Michigan agencies will be working together to educate the public and businesses on illegal gaming. The agencies will especially work with businesses such as bars and others that hold liquor licenses. The team wants to help businesses understand and identify machines that are illegal within the state. By cooperating with MLCC, those with liquor licenses will be provided with the opportunity to get rid of these illegal machines or face consequences. These consequences could include getting fines, losing their liquor licenses, or even felony and misdemeanor charges.
Visit our selection of legal online gambling casinos.
According to the MGCB executive director, Henry Williams, "Illegal gambling can lead to other, more serious crimes that compromise safety in Michigan communities." He also stated that "Citizens who use these unregulated machines also have little recourse if they feel cheated. They can't file a formal dispute with an unregulated operator. Therefore, they can ask our agency to review the outcome as they can when participating in licensed, legal gaming."
As the Michigan Gaming Control Board and the Michigan Liquor Control Commission begin their relationship together in 2022, the goal is to educate and help the public and businesses to clearly understand why illegal gaming is dangerous to the citizens of Michigan.
Gambling and Liquor Licenses
Encouraging compliance and removing these illegal machines from businesses is the primary goal. According to Pat Gagliardi, the MLCC Chair,
"Liquor licensees who allow illegal gambling and who fail to remove gambling devices used for illegal gaming from their businesses can face violations from the Michigan Liquor Control Commission."

MGCB 2022
In addition, he said Illegal gambling is a serious violation. Penalties can include suspension, revocation of liquor licenses, and fines. If you possess a liquor license it is important to only utilize legal types forms of gambling. If not, you will violate the Commission's rules and laws.
Educational Materials Availbale to the Public and Busineseses
The two agencies want to provide educational materials to the MI public and businesses. This will help them understand what machines can be legal in the state. For example, there are unregulated gaming machines located in businesses now. In some cases, the business owners have been misled by the suppliers of the equipment. The business owners might be told that the equipment and machines are fine to use. In addition, they explain the reasons why the use is acceptable. Michigan agencies have fact sheets so dealers and software suppliers do not mislead and take advantage of businesses. The educational campaign helps businesses understand that the law requires all gambling activities to be legitimate. This means that machines for gambling are run within and by state-licensed casinos.
Michigan Gambling Laws are to Protect Consumers
According to Michigan Attorney General Nessel,
"Laws that authorize and regulate gaming in the State of Michigan serve to protect consumers who wish to gamble." She stated that "My office stands ready to assist the Michigan Liquor Control Commission and Michigan Gaming Control Board in this important enforcement effort. We will not hesitate to hold people accountable if they ignore this opportunity to voluntarily remove illegal gambling machines."

MGCB 2022
The state offers a fact sheet about Michigan law. In addition, there is a separate fact sheet on unregulated machines that might be in businesses today.
MGCB director Williams said,
"With additional education, we hope business owners will do the right thing and not offer illegal gaming in their establishments." In addition, he indicated that the State of Michigan will go after violators of the law."

MGCB 2022
If you see or suspect illegal gambling, the Michigan Gaming Control Board asks that residents report the activity. They can call the agency's anonymous tip phone line at 1-888-314-2682.