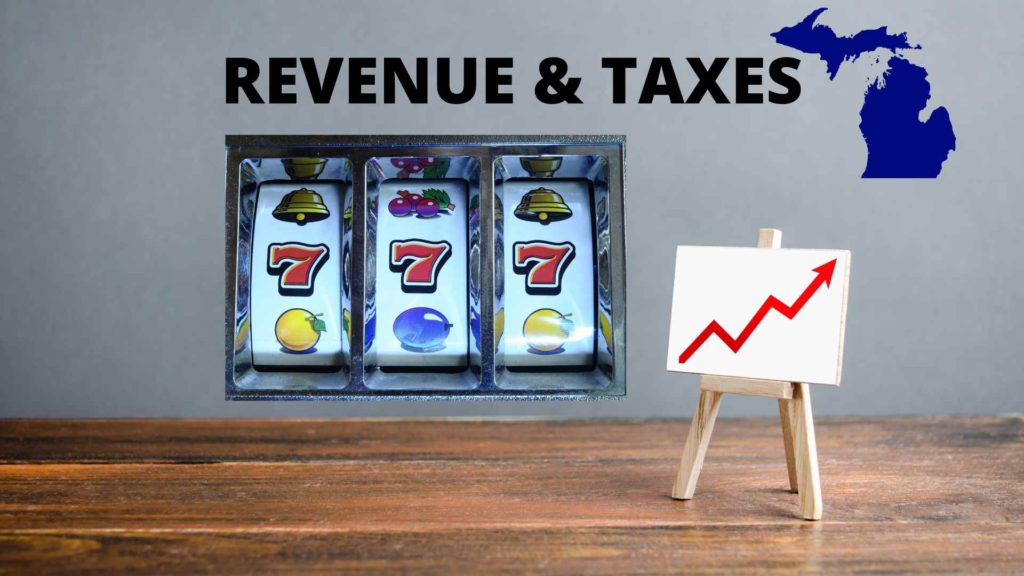 Revenue and taxes increased from the prior year. In 2021, the three Detroit, Michigan casinos brought in over $1.29 billion in revenue. Firstly, slot machines brought in the most revenue at $998.8 million. Secondly, table games provide 21% of the revenue. Finally, retail sports betting at almost $27 million in revenues were raised.
In 2020, only $639 million in revenue was produced by Detroit's three casinos. This is a lower number due to COVID-19 closures. In contrast, 2019 saw record revenue numbers at over $1.45 billion.
In this fiscal year, MGM Grand-Detroit produced 43% of the revenue for table games, slots, and sports betting. MotorCity came in next at 35% followed by Greektown Casino at 22% of the revenue for casino spending.
Revenue and Taxes Produced by Table Games and Sports Betting-2021
When comparing 2020 with 2021, the table games and slots at Michigan's three casinos have done exceptionally well. The casinos have seen a 104.2% increase year over year equaling $1.27 billion this past year.
MGM Grand's revenue increased by 115.5%.
A 96.8% increase was enjoyed by MotorCity Casino.
Greektown Casino saw an increase in revenue by $274.5 million. This is a 95.2% increase.
Taxes Raised for the State of Michigan and Detroit–Table Games and Slots
This year, Detroit's casinos paid close to $103 million in taxes to Michigan. When comparing this to 2020, about half of the amount was provided to Michigan from taxes generated from table games and slots.
The City of Detroit received $160.8 million in development and wagering taxes during 2021. These taxes were again based on the revenue produced from table games and slots from MGM, MotorCity, and Greektown.
Taxes Generated from Sports Betting in 2021
The Detroit casinos reported $26.95 million in aggregate retail sports betting qualified adjusted gross receipts. The definition of Qualified adjusted gross receipts is:
Sports betting gross receipts minus the value monetarily of the incentives from free play given to and used by betters to wager.

The list below is in order of receipts from each of the Detroit casinos in 2021:
Greektown brought in the greatest receipts at $9.47 million
In second place was MGM at $8.79 million
Not far behind was MotorCity bringing in $8.69 million in adjusted gross receipts
The State of Michigan received one million dollars in taxes for retail sports betting. This was contributed by the 3 Detroit casinos. In addition, the City of Detroit was provided with $1.26 million from retail sports betting conducted at MGM, Greektown, and MotorCity in 2021.